Reliable,
On Time

, OnSite,

Any Language

, Any Sector

Our interpreters and translators are native speakers of their target languages and recognised experts in their field

Book an Interpreter

Interpreting
We base our business on offering contracts exclusively to experienced professionals. Interpreters OnSite provides highly trained professional interpreters, all of whom have practical understanding of the requirements related to different situations that may occur during their assignments

Translating
We offer multi-language document translation services for personal documents, legal documents, training manuals, general texts, marketing materials, company documents, educational texts, product user manuals, employee handbooks, sales literature and more

Languages
We offer interpreting and translating services in over 150 languages and dialects, including rare and emerging languages. If the language you are after is not listed on our web site, please contact one of our friendly staff to discuss further.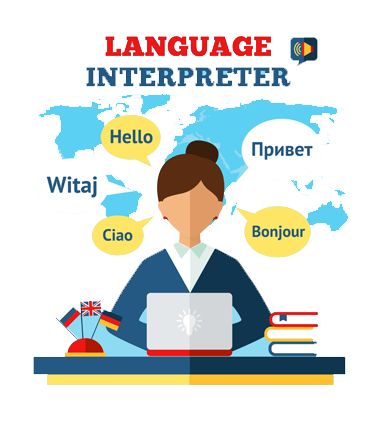 Why IOS
In our day-to-day business, we adhere to these values in our services:
Reliability

Reliable, on-time delivery- the way you want it, when you want it

Professionalism

Professionalism, confidentiality, and accuracy

Cost Effectiveness

Our interpreter & translator services are not only efficient, but also cost effective & competitive

Performance Monitoring Program

As part of our quality assurance process, we regularly monitor the performance of all our Interpreters and Translators

Cultural sensitivity

Culture gives birth to language. With our translation and interpreter services, we bridge the gap between cross-cultural languages. We provide you with the services that not only enhance your productivity but maintain your cross-cultural relation with your clients effectively.

Confidentiality

Whether you want to translate your crucial business documents or are thinking of organising an event inviting foreign attendees, we maintain the confidentiality from our part to ensure complete protection of your underground information.
Breaking down language barriers to help you communicate proficiently
With our exceptional linguist experience, we strive our best to provide you with the linguistic services that bridge the multicultural gap with your clients and strengthen your customer relationships.
We are recognised as one of the leading providers of language services including translating services and interpreting services in Sydney.     
We build long-lasting relationships with our clients. Our services are distinguished, on the basis of our clients' profession and industry. We provide customer support that guides them through all the stages with requirements that best fits with their business.
At Interpreters OnSite, we provide you with professional linguists who are able to carry out interpreting services like
Consecutive interpreting services
Simultaneous interpreting services
Telephonic interpreting services
Alongside our interpreting services, we provide highly efficient, comprehensive and cost-effective translation services. Our linguists have a profound knowledge of the source language.
Besides, no matter whether you are a big name in the industry or have just started building your international presence, you will always receive the same treatment from our professionals.
As a team, we have a wealth of knowledge built up over the years, enabling us to understand your requirements well and provide the best suitable solutions. Our skilled translators and interpreters in Sydney are native speakers of their target languages and are recognised experts in their field.
We work hard to surpass your expectations and deliver complete customer satisfaction which brings you back to us over and over again.
Browse through our website to know more about Interpreters Onsite.
We're always giving the best out of us, for the best out there.